21 Day Alpha Shooter Review


21 Day Alpha Shooter Review
Disclosure
: I may be an affiliate for products that I review. This means if you purchase those items through my links I will earn a small commission. You will not pay more when buying a product through my link. In fact, I oftentimes am able to negotiate a lower rate (or bonuses) not available elsewhere. Plus, when you order through my link, it helps me to continue to provide you with free product reviews. Thank you, in advance for your support!
Learn more
The secret used by Navy SEALs, Marine Force Recon, Delta Force, law enforcement, intelligence agencies and top competitive shooters is dry fire training. There's no question to that. However here's the catch, doing things over and over again can be boring. Now, how do you take the boredom out of a monotonous task like dry fire training?
That's the very specific problem the 21 Day Alpha Shooter course is trying to solve. The creator, Ox calls it as the upgraded dry fire training or advanced dry fire training. It's a 3-week virtual coaching that will earn you the rank of an Alpha Shooter, someone who can draw a gun fast and fire accurate shots.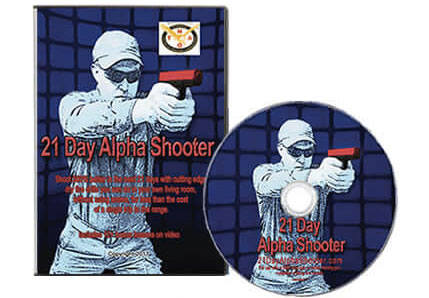 This virtual training has a great set of dry fire drills and it's broken down into short lessons, most about 3-5 minutes. All you have to do is watch each video then practice the drill for 5-15 minutes. Short and constant practice is a proven accelerated learning technique. It's a principle that I also used in the New Rules of Marksmanship course.
Don't take my word for it, the National Tactical Officer's Association (NTOA) tested and recommend the course along with the Navy SEAL Sniper School. Tier I and Tier II military unit across the globe and police department throughout the country uses the course in their firearms training program.
It's a product of collaboration between the top mind in firearms training and application of neuroscience and accelerated learning principles. You can never go wrong with this course.
---
The best way to grip your gun in a way that the sights will automatically be aligned with your target every time you draw
How to properly grip your gun to control recoil to take follow up shots fast and accurately
Aim faster and easier using vision drills and tricks
How to confidently hit targets from 10 feet to 100 yards or more
How to learn faster and smarter
Specific ways to train to keep your skills sharp
And so much more
Like most instructional courses out there, this one uses a few methods that are not based in science, but what works for the instructor. This is normal and just recommend that you realize this and take the good information and let some of the bad go.
At only $37, this is a better investment than another box of ammo. This course is not the only thing you'll get, you'll also get addition resources which is more than a hundred dollars in value. It's really a bargain.
Here's what's included:
The 21 Day Alpha Shooter Course in High Definition DVD, this also include bonus training videos
Digital access to all HD quality on-demand videos
Dry Fire Training Cards plus a printable version so you can use it right away while waiting for the goods to be delivered at your doorstep
Dry Fire Training Cards Companion Guide – a guide on how to use your dry fire training cards effectively. You can either make it easier, harder, or modify it to fit a certain situation plus the psychology and physiology behind the drills.
Swat Tactics for Clearing a House with a Firearm – a step by step guide to clear a house in case of a home invasion
Brain Based Diagnostic Shooting Target – a chart for identifying shooting mistakes and fixing it when doing a live fire training
And a lovely pistol drop chart which will serve as your handy dandy cheat sheet for taking long range shots with your pistol.
If you're looking for more information and ways to train, I say yes – this is Navy SEAL Approved..
---
21 Day Alpha Shooter Review
The secret used by Navy SEALs, Marine Force Recon, Delta Force, law enforcement, intelligence agencies and top competitive shooters is dry fire training.