DISCLOSURE: I may be an affiliate for products that I review. This means if you purchase those items through my links I will earn a small commission. You will not pay more when buying a product through my link. In fact, I oftentimes am able to negotiate a lower rate (or bonuses) not available elsewhere. Plus, when you order through my link, it helps me to continue to provide you with free product reviews. Thank you, in advance for your support! Learn more
The JumpSport Fitness Trampoline Model 350f Trampoline, produced by JumpSport Fitness, is a step above the traditional trampoline and rebounder models you may be familiar with from your childhood. The Model 350f is a new generation trampoline that is designed to be portable. That means anyone, from working moms to stay-at-home dads looking to reduce their waistline, as well as active kids and everyone else has access to a trampoline that can be folded up and transported to any space in and out of the home for maximum enjoyment and fitness training.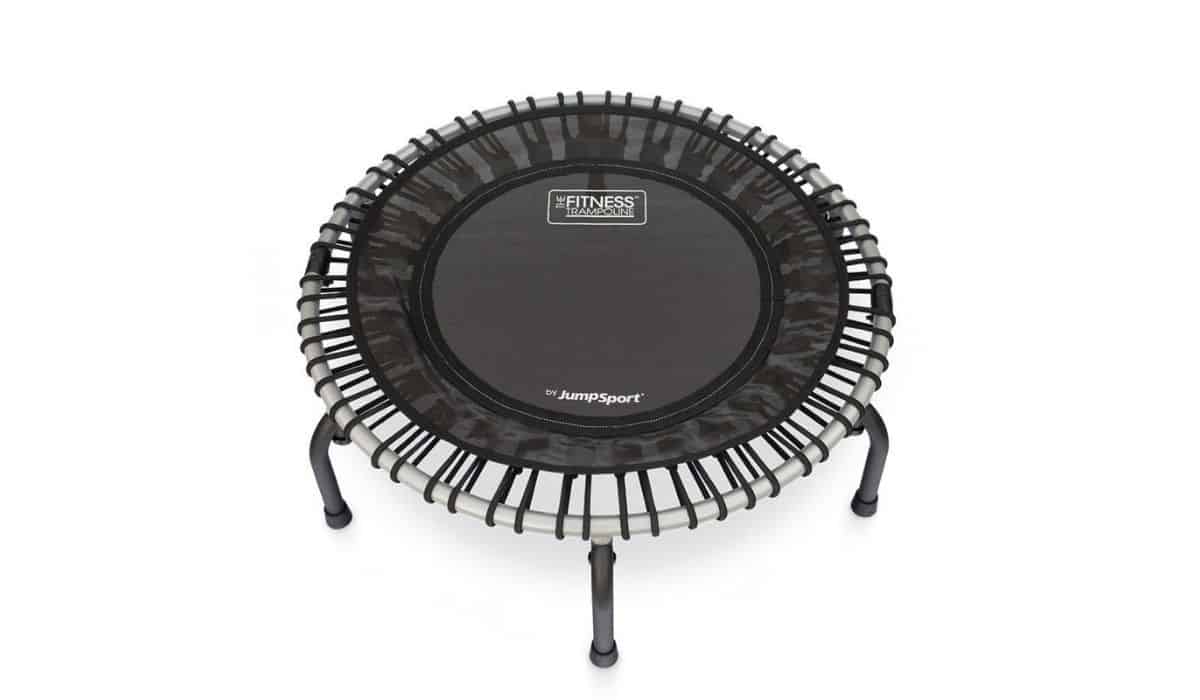 The design of the JumpSport Fitness Trampoline Model 350f lends to its portability. It is spring-less and manufactured to be easily moved from one space to another without requiring much by way of assistance. It is an appropriate complement to your home's workout equipment. It provides a fun way to encourage increased physical fitness and activity among certain members of your family or turn a boring workout into something you look forward to completing. Here, in this review, we look at some of the design features and specifications of the trampoline as well as its pricing.
Overall Impressions
The overall impression is that the JumpSport Fitness Trampoline Model 350f is a very well made fitness trainer and exercise equipment. The use of EnduroLast 3 elastic cords, which have been tested to over 1 million bounces, instead of metal springs, are a significant part of the durability of the trampoline. It weighs a little more than 26 pounds and has a 36-inch footprint when opened. Its portable design makes it the type of trampoline you need if you have limited space or desire portability.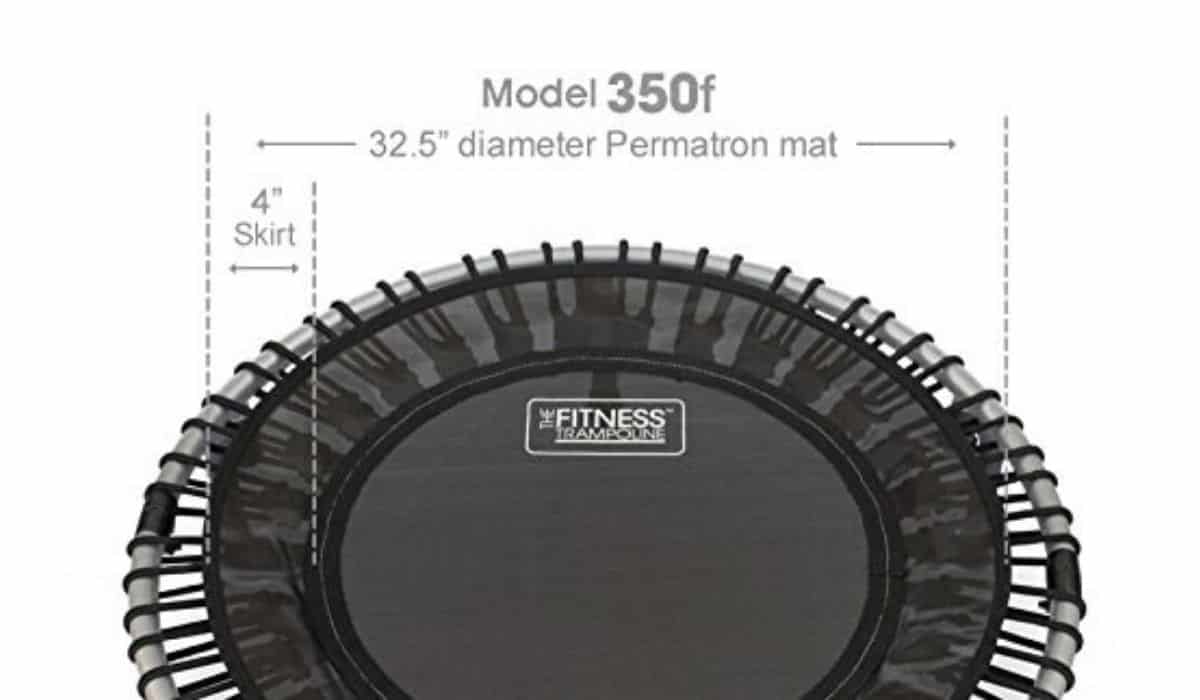 Features and Other Specifications of the JumpSport Fitness Trampoline Model 350f Trampoline The design of the 350f Trampoline makes it an ideal compliment to your home gym and other workout equipment.
Some of the notable features and other specification of the trampoline include:
Hinges that are reinforced with steel. It is the use of reinforced steel that permits you to easily fold the JumpSport Fitness Trampoline.
Removable legs, which aid in the quick folding of the trampoline for storage or removal to another location.
Stronger cords are woven throughout the trampoline in place of traditional springs. The cords have the ability to deliver a high intensity workout, are more responsive and have increased resistance.
Designed for you to achieve a high calorie burn workout quickly.
The trampoline can accommodate a maximum user weight of 250 lbs.
The trampoline's design allows for the strengthening and toning of the muscles throughout your body. It also provides stimulation to the lymphatic nodes one-way valves.
The trampoline also includes a 4-in-1 workout DVD. The DVD comes with exercises designed to enhance your workout experience and use of the JumpSport Fitness Trampoline Model 350f Trampoline.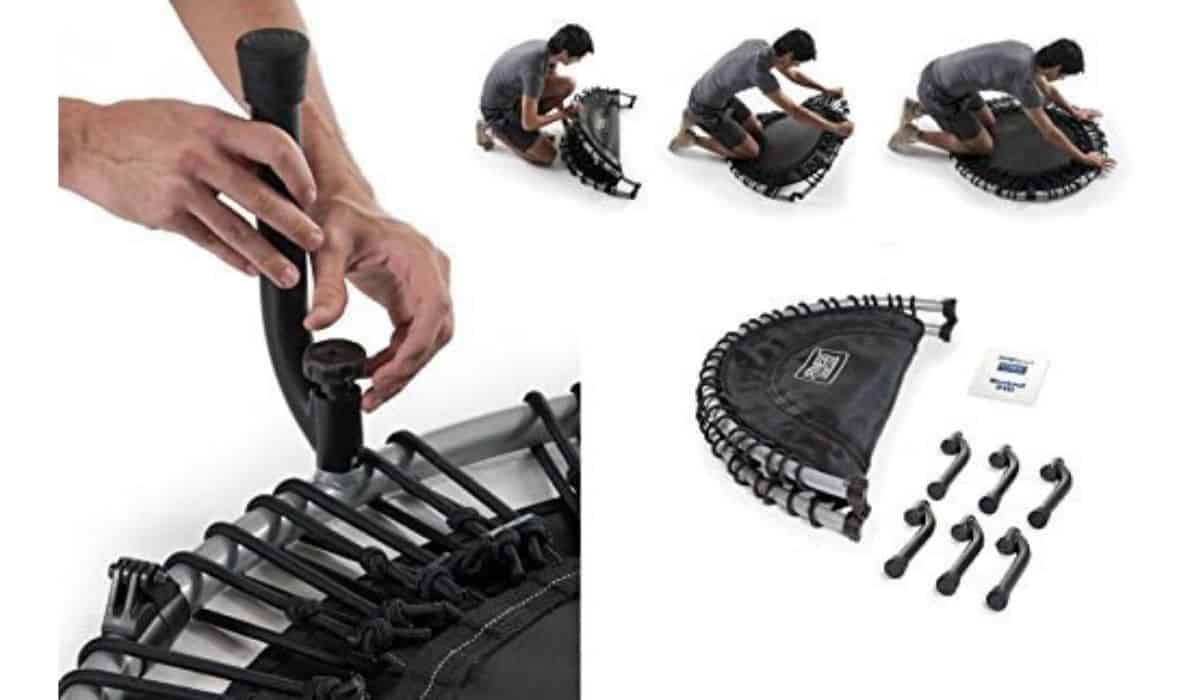 Pricing
The JumpSport Fitness Trampoline Model 350f Trampoline is a mid-model product within Jumpsport Fitness's line of 300 Series fitness trampolines, which includes the 350 and 370 models within the same series. The trampoline is priced at around $359 USD, which based on its design, load specification, and portability, may be considered a bargain for those looking for a mobile exerciser designed to increase activity and physical fitness.