DISCLOSURE: I may be an affiliate for products that I review. This means if you purchase those items through my links I will earn a small commission. You will not pay more when buying a product through my link. In fact, I oftentimes am able to negotiate a lower rate (or bonuses) not available elsewhere. Plus, when you order through my link, it helps me to continue to provide you with free product reviews. Thank you, in advance for your support! Learn more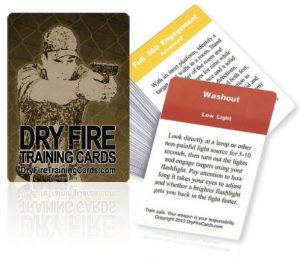 Dry fire training cards is the collection of more than 50 dry fire training exercises. Each card covers advanced concepts, dry fire exercise drills, dry fire complex movement drills, and low-light drills. And having 50 to choose from will keep you sharp… and boost your shooting even higher. These cards printed on high-end poker card stock so they'll fit almost anywhere and are durable enough to last a lifetime… and they're made here in the gold old U.S.A. You'll get to know how how to make sure you won't be thrown off if you find yourself in a non-ideal position in a high stress situation, how to progress to advanced movements without compromising your weapon handling technique, and much more! Besides all, these cards will show you how to boost your accuracy AND get a good workout in as well. And the good part here is that those cards have free shipping available.
Get Your Dry Fire Training Cards Here
One of the biggest complaints I get about dry training is that people don't know what to do. In reality the answer is simple–everything you would do live fire! In practice this is sometimes not so easy… These cards are not just something that I think are a great tool, but they are also National Tactical Officer's Association (NTOA) Member Tested and recommended ( I am also a member). The deck comes with more than 50 Dry Fire Drills that come straight from US Special Operations and champion competitive shooters.
If you've read my books you know I'm a big proponent of dry fire and it's ability to help shooters develop neural pathways (muscle memory) in a fraction of the time required with traditional training – yes, even live fire! If you're looking for a great set of dry fire drills – your search is over. Pick up a deck and start playing… I mean training!