DISCLOSURE: I may be an affiliate for products that I review. This means if you purchase those items through my links I will earn a small commission. You will not pay more when buying a product through my link. In fact, I oftentimes am able to negotiate a lower rate (or bonuses) not available elsewhere. Plus, when you order through my link, it helps me to continue to provide you with free product reviews. Thank you, in advance for your support! Learn more
LaserLyte, innovators in firearms laser technologies, have developed a new interactive target system with dual modes for reaction and training; the Reaction Tyme Target, TLB-RT. This new laser training system comes with two (2) targets for more realistic training scenarios. The interactive system works in two modes; reaction and training. The reaction mode features random LED signals in intervals of three to seven seconds that can be shot with any of the LaserLyte Trainers. The training mode allows the user to practice trigger control and accuracy with an always-on and ready-to-be-shot mode. The LaserLyte Reaction Tyme Target allow for new and experienced shooters to gain increased levels of confidence and skills in the comfort of their own home while saving money on ammunition. The twin targets provide an active training session that can be set-up in a variety of ways. Any of the LaserLyte Trainers work with the TLB-RT including the LT-PRO, LT-1 and the LaserLyte Trainer Cartridges in .223, .380, 9mm, .40 SandW and .45 ACP.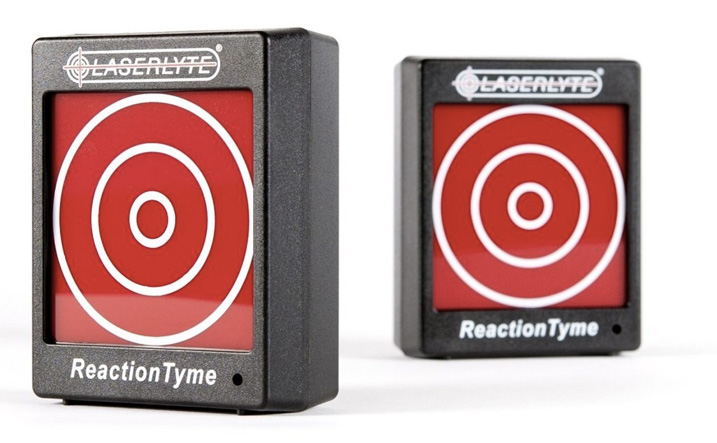 Get Your Laserlyte Reaction Tyme on Amazon
Key features:
Interactive target system w/dual modes for reaction and training
Comes w/2 targets for more realistic training scenarios
Each target works independently of each other providing the user a variety of scenarios from near-to-far or left-to-right shooting.
Goes with manual with the instructions and troubleshooting steps.
The device is being used with the batteries.
As regards to my experience, I've used their single target for a few years now and it works great, but this new laser training system comes with two targets for more realistic training scenarios. Each target works independently of each other providing a variety of scenarios from near-to-far or left-to-right shooting. When a hit is made the target celebrates with two beeps and a LED flash.This is a great tool for new and experienced shooters to gain increased levels of confidence and skills at home while saving money on ammunition. Put that SIRT pistol to good use with a set of these targets