DISCLOSURE: I may be an affiliate for products that I review. This means if you purchase those items through my links I will earn a small commission. You will not pay more when buying a product through my link. In fact, I oftentimes am able to negotiate a lower rate (or bonuses) not available elsewhere. Plus, when you order through my link, it helps me to continue to provide you with free product reviews. Thank you, in advance for your support! Learn more
Fun fact, two-thirds of all police departments in United States use Glock pistol as their gun of choice. It's so popular in America that you see it Hollywood films and rap lyrics. I'm not denying the fact, I have used Glock numerous times and I know how effective the pistol as a weapon.
But what if you want to own a Glock and you want learn how to use it? One product I would suggest to check out is EJ Owens' The Unofficial Crash Course: Glock.  Owens served for 14 years in the United States Army and National Guard. Since 2007, he helped the U.S. military by developing over 300 hours of arms training. He is a certified Glock Armorer and an NRA Certified In-The-Home Protection Instructor. So if you are looking for someone with good credentials Owens is your guy.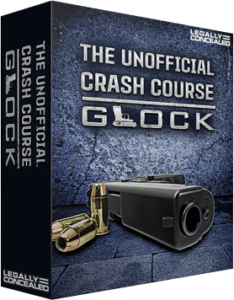 As a Glock user I understand its popularity to gun owners. First, the level of reliability of this pistol is superb. This handgun is also feathery light, compare to most of its counterparts Glock is about a quarter lighter. Maintaining a Glock is easy, you can learn swapping parts after ten minutes of coaching. And lastly, it's fairly simple to use. That will give you more time practicing how to shoot and less time learning the "knobs and buttons."
However, like any weapon without proper guidance an owner can be completely clueless on how to operate it.
Here is where EJ Owens comes in. His program is divided to several modules. The first module will teach you how to pick the right Glock for you. Then you will know the Glock safeties and how they work. In his program, Glock field strip and barrel rifling is taught with utter importance. As a responsible gun owner I know the need for a gun safety course. Another module is also allotted to the correct way of gun cleaning, inspection and lubrication is next. Finally, you will learn a detailed reassembly and disassembly of your gun.
I have to say this Glock training program covers the essential fundamentals of owning a Glock.  I believe that with this program you will learn using your Glock in a couple of hours! This training will provide you the confidence to troubleshoot and take apart your gun when you need to. And to cover more bases, included in the program are bonuses on defending yourself on different scenarios like the The Ultimate "Go" Bag: Essential Gear For Any Critical Incident and Anti-Carjacking Scenarios: How To Survive And Defend Your Passengers.
If you are also looking for other concealed carry classes or tactical training, EJ Owens also offers other training programs in concealed carry, handguns, home defense, legal, rifles and survival. The available products include AR15 Crash Course, AK47 Crash Course, Tactical Home Defense, Everyday Carry, Bolt Action Basics and Surviving Civil Unrest.
The Glock pistol has become a popular choice because of its numerous advantages. Therefore give yourself a chance to maximize the full potential of your weapon by arming yourself with the correct operational knowledge of your handgun.