DISCLOSURE: I may be an affiliate for products that I review. This means if you purchase those items through my links I will earn a small commission. You will not pay more when buying a product through my link. In fact, I oftentimes am able to negotiate a lower rate (or bonuses) not available elsewhere. Plus, when you order through my link, it helps me to continue to provide you with free product reviews. Thank you, in advance for your support! Learn more
The Shot Indicating Resetting Trigger (SIRT) Training Pistol was developed by shooters for shooters, for dry fire practice meant to complement, not replace, live fire training. If you own a Glock or M&P pistol, this is one of the best dry fire training tools you can have in your arsenal.
I've been using the SIRT for years because it makes laser training with a Glock much easier and more realistic. Simply put, the SIRT makes it easier to train, which means you're more likely to do it!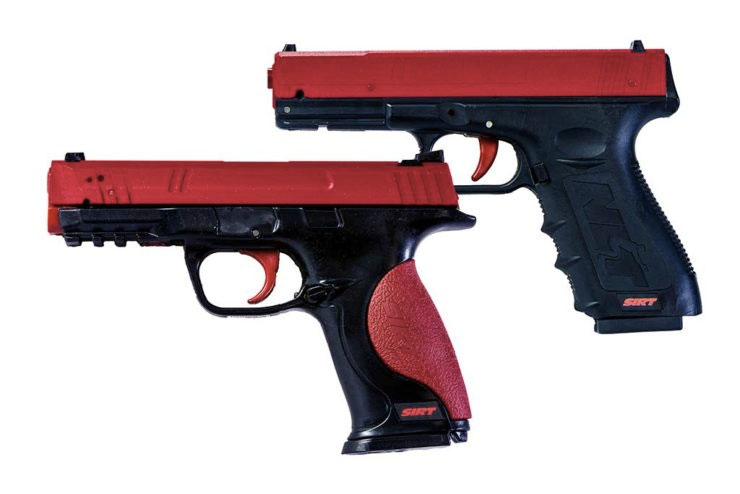 Get Your Sirt Training Pistol Here
Use the code SAJNOG for 10% off your purchase
Standout Features
Each SIRT Training Pistol comes with one training pistol, one training magazine, a trigger adjustment tool, and a laser windage and elevation adjustment tool.
The SIRT Laser Training Pistol  doesn't fire any sort of projectile, and the lasers are harmless, allowing you to train anytime and almost anywhere (as with any item that resembles a gun, please use discretion when choosing locations to train).
Fight the potential boredom perceived in training with a simple, but versatile, training tool that makes training fun.
The system provides the shooter (or instructor) immediate feedback on performance allowing for real-time adjustments, and it offers several features that, when used consistently, offer a rewarding training experience.
The SIRT Training Pistols simulate accurate pistol weight and center of gravity which are imperative for training .
The integrated lasers allow for proper training of draws of various pistolcraft skill sets. The SIRT Training Pistol comes with a weighted magazine.
What I Don't Like
The two laser system might be helpful to some, but I find it distracting and have seen shooters' attention being pulled away from the target to the second laser. The good news is that the second laser can easily be turned off if you find yourself distracted by it.
Pricing
There are two SIRT Training Pistol options: The 110 Model which is functionally similar to a Glock 17/22 or the 107 Model which is going to be similar to the Smith & Wesson M&P. With the 110 Model, you get to choose your slide type, either metal or polymer (with polymer being less expensive), slide color (metal options are purple and red, polymer options are green, pink, purple, or red), and laser color (red or green). A 110 Model with a polymer slide will start at $339 and the same model with a metal slide will start at $439.
The 107 Model has fewer options, only offering a metal slide in red with your choice of red or green laser color. This option is similarly priced to the 110 Model at $439.
Navy SEAL Approved?
Absolutely. This is one of my most recommended tools because it produces results for my students. Check out the video below to find out why this tool is Navy SEAL Approved.
Get Your Sirt Training Pistol Here
Use the code SAJNOG for 10% off your purchase